Think of Cecil Green Park House as a blank canvas. A breathtaking, old-world mansion, set by the sea and surrounded with luxurious gardens, ready to be made all your own. With a venue this spectacular, it doesn't take much to let your imagination run wild.
Your rental of the house includes the exclusive use of all rooms on its main floor, its tiered outdoor terraces, and the expansive surrounding grounds.
Please note at this time, only the covered areas are licensed for alcohol service and consumption (indoors and covered terrace). The lawn area is not licensed, we are working with Sage to extend the license to the lawn, this notice will be removed when completed. All important info on the venue is available on our Planning Toolkit.
Learn more about our history »
GUEST CAPACITIES
Click each seating arrangement for an illustrated diagram.
Indoor wedding ceremony (no reception)

200

Indoor wedding reception (summer)

140

Outdoor wedding reception

110

Indoor wedding ceremony and reception (winter)

110

Theatre-style lecture using one room

135
View PDF floor plan »
Indoor wedding ceremony (no reception)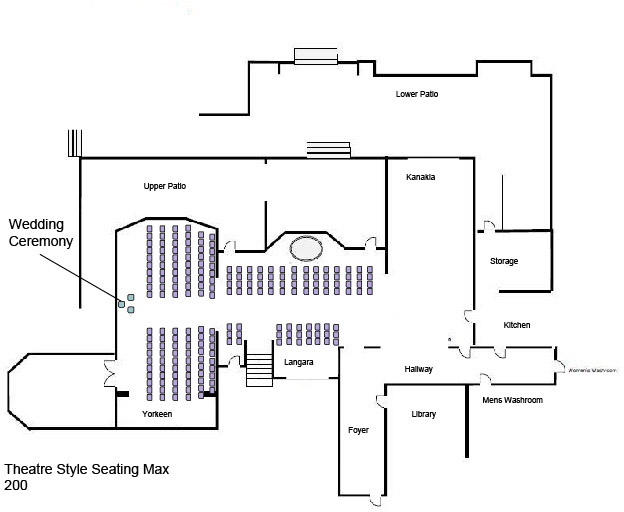 Indoor wedding reception (summer)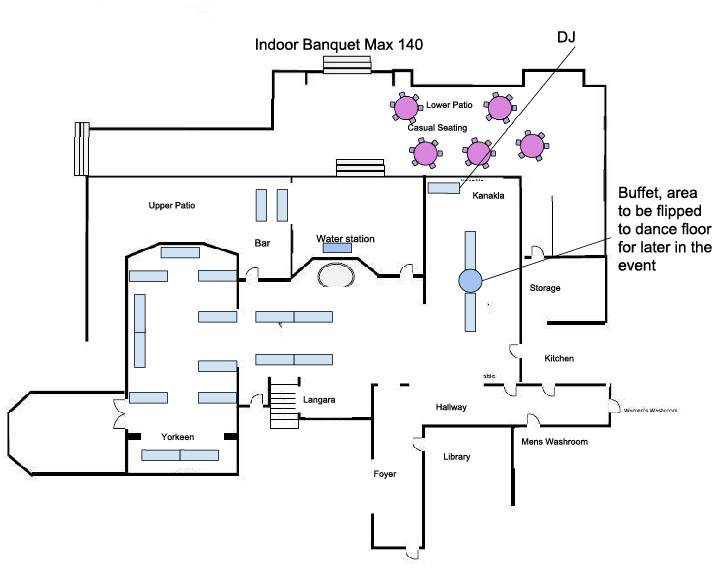 Outdoor wedding reception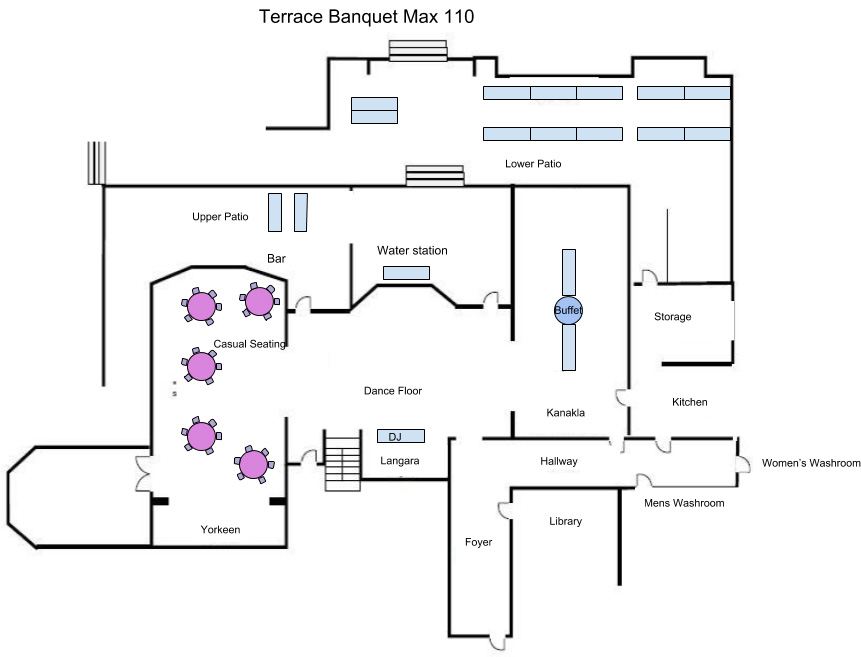 Indoor wedding ceremony and reception (winter)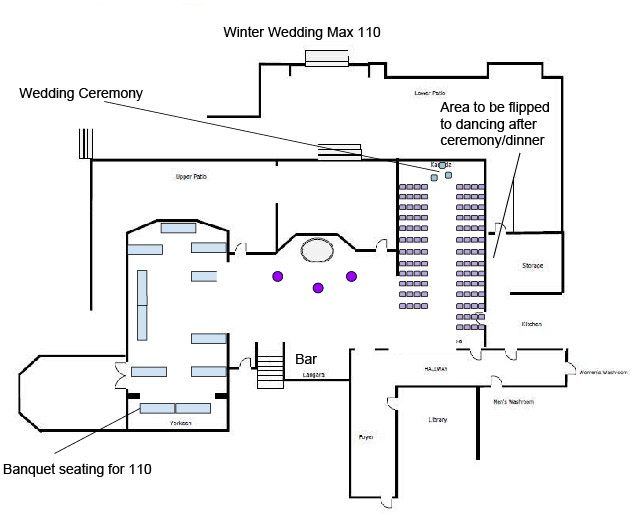 Theatre-style lecture using one room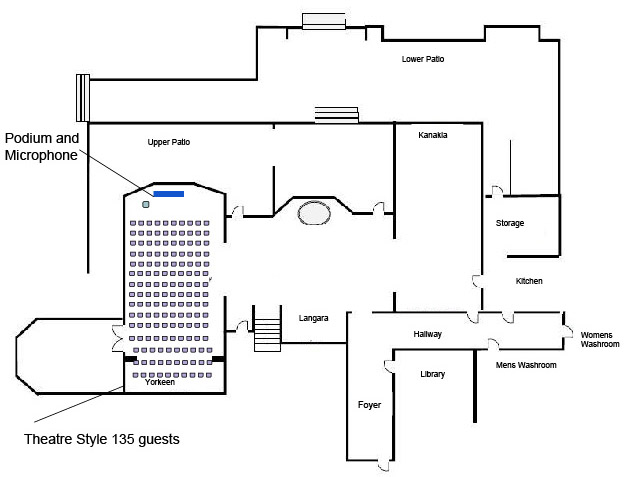 U-shape meeting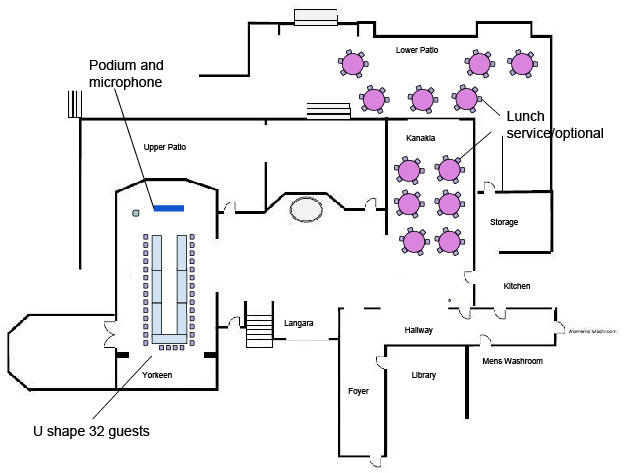 Boardroom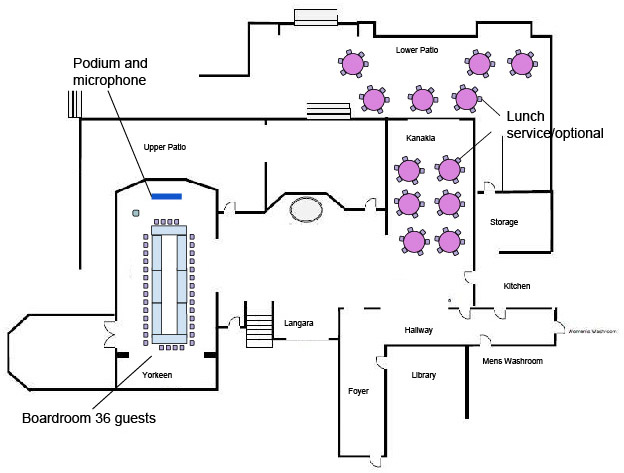 YORKEEN ROOM
Dimensions
40' x 20' (Mantle 7' x 8")
Originally the drawing room of the house, this elegant space is dignified by elaborate plasterwork moldings in the 18th-Century style. The marble-wrapped fireplace provides the focal point to the three inter-connecting reception rooms. The inlaid hardwood floor extends throughout the reception rooms of the house.
The Yorkeen Room is used for ceremonies, receptions or business meetings. It can accommodate up to 100 guests seated theatre-style. The room holds 9 round tables, with 6 guests per table, or up to 90 guests seated at 8' tables set up banquet-style.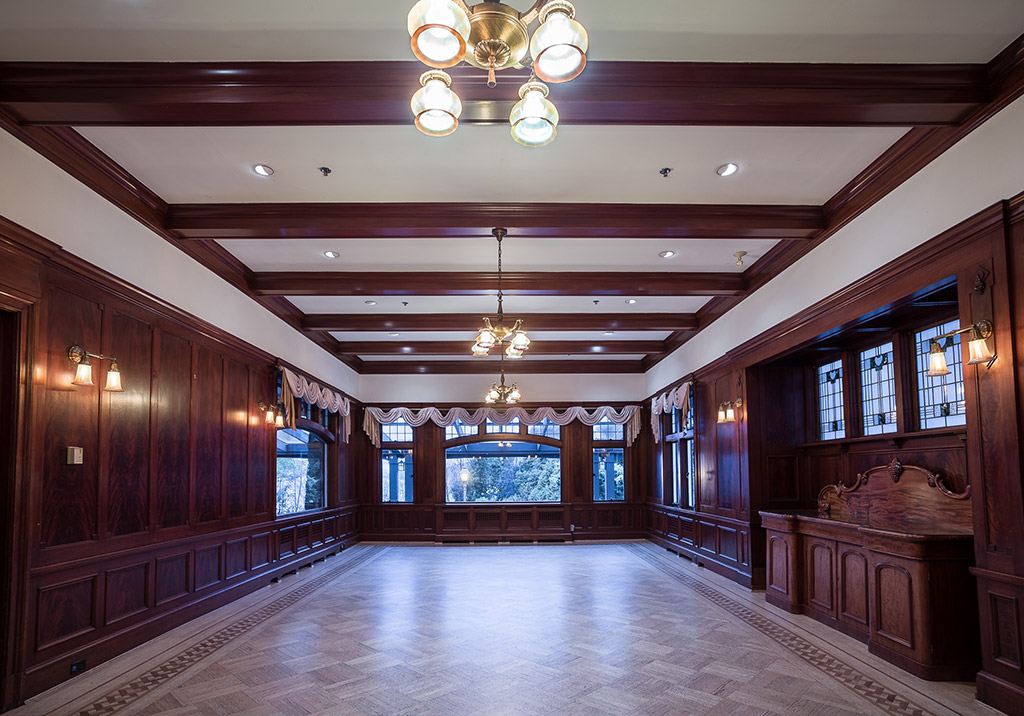 KANAKLA ROOM
Dimensions
36' x 18' (mantle 8' x 9")
Formerly the dining room of the house, this room is paneled in flame mahogany with a stained glass window. A fire log in original mahogany and black marble accent the gas fireplace.
The Kanakla Room can seat 90 guests theatre-style and is used for meetings and wedding ceremonies, particularly during inclement weather. Buffets are generally located in this room, as it is adjacent to the service area. After your dining needs have been met, the Kanakla Room can also be converted to a dancing area.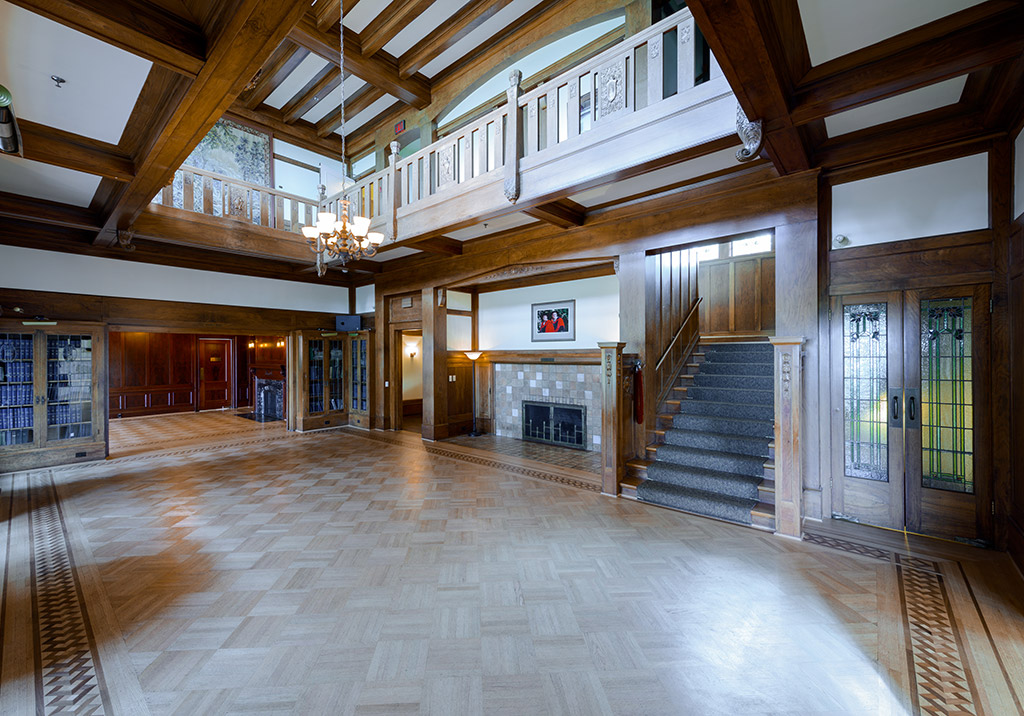 LANGARA ROOM
Dimensions
34' x 18' (mantle 10'10" x 7")
A spacious room paneled in rare Australian walnut, with glass-fronted bookcases and original leaded glass, the Langara Room is open to a second floor Minstrels' Gallery, the carving of which took a master craftsman a year to complete. The carving depicts the oak leaves of England (from which the house's original owner originated), the maple leaf of Canada, and the interlaced Knots of Brotherhood: the insignia of the Arts and Craft movement on which many of the architectural features of the house, both inside and out, are based. There is a working gas log fireplace in the room.
Located between the Yorkeen and Kanakla reception rooms, this is a perfect space for guests to mingle, or can be used to extend seating from the Yorkeen room for larger events.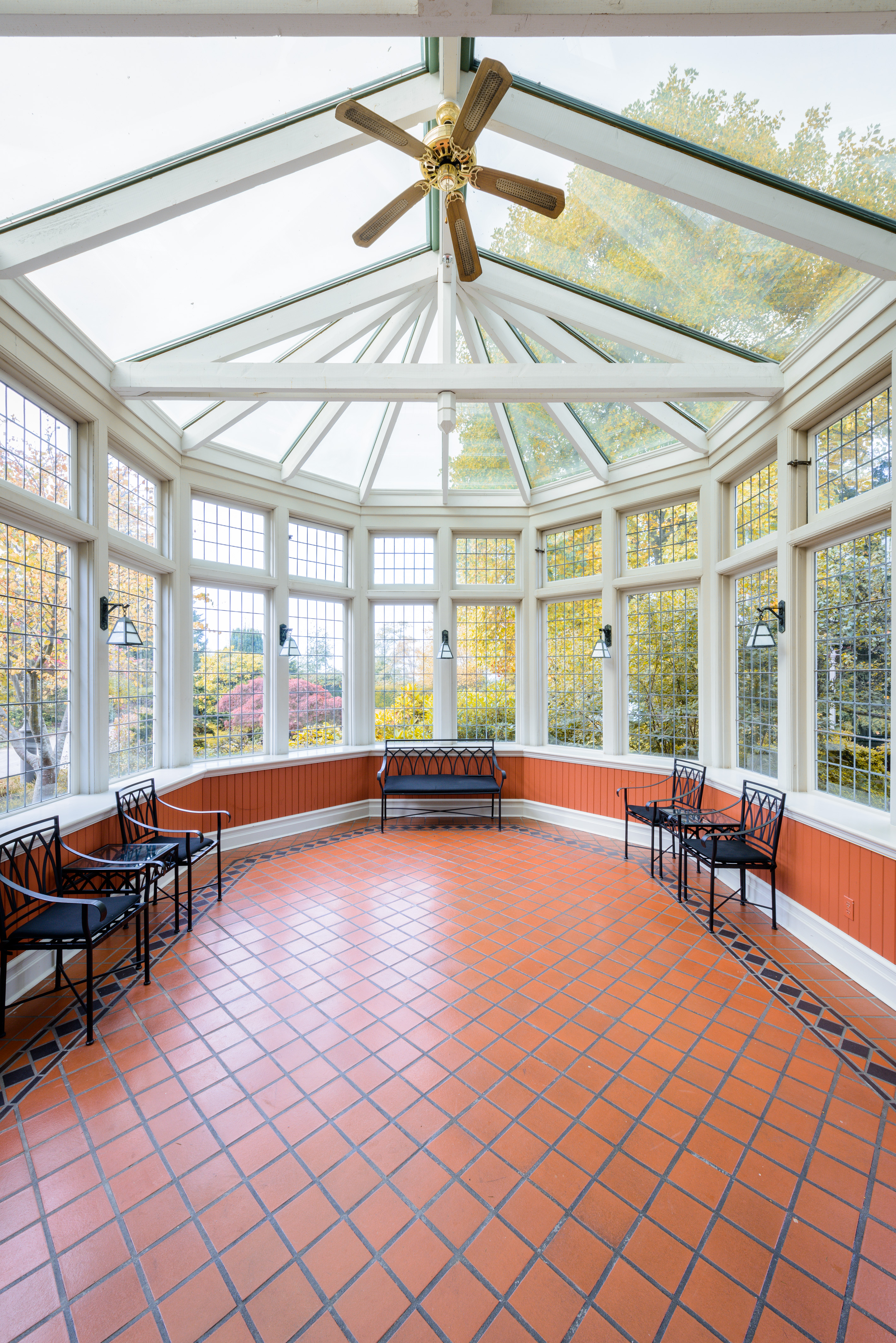 CONSERVATORY
Dimensions
23' x 14'
Located and accessible off of the Yorkeen room through double glass doors, this room is a popular spot for photos and natural lighting. A mostly glass room, including the ceiling, yields beautiful garden views facing North, South, and West and is popular for photobooths, intimate couple photos and tea ceremonies.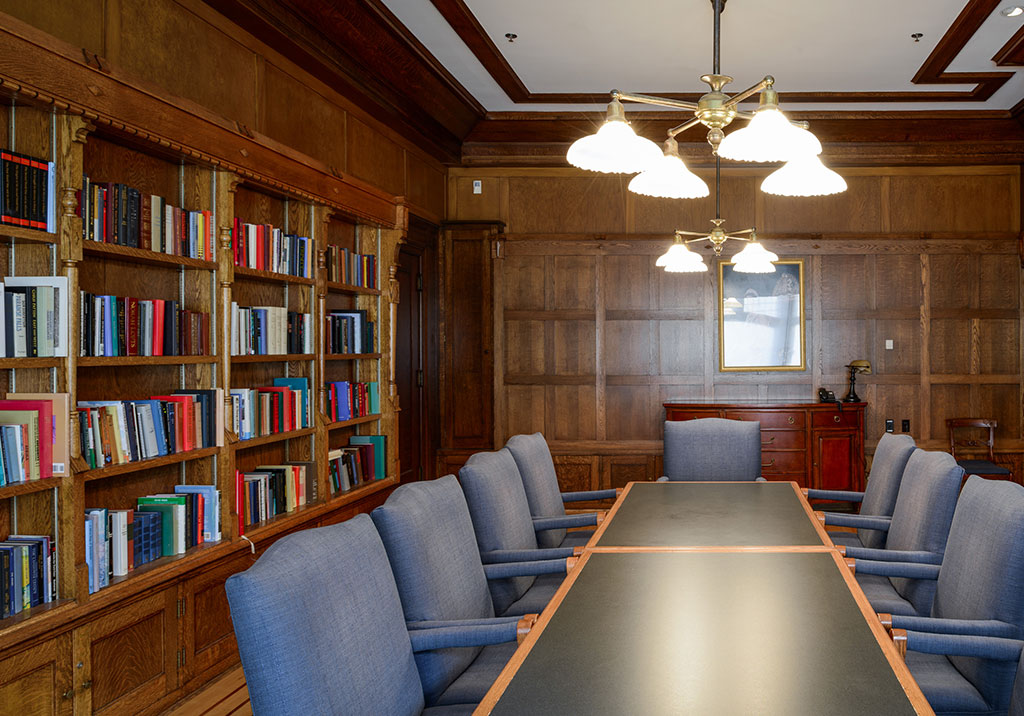 LIBRARY
Dimensions
25' x 18'
Separate from the reception rooms, the Library was used by the first owner to house his collection of law books – the largest privately held collection at the time. Ideal for private meetings, this room features a wooden table that seats 10, rich oak paneling, and a working gas fireplace set in expertly crafted brick masonry.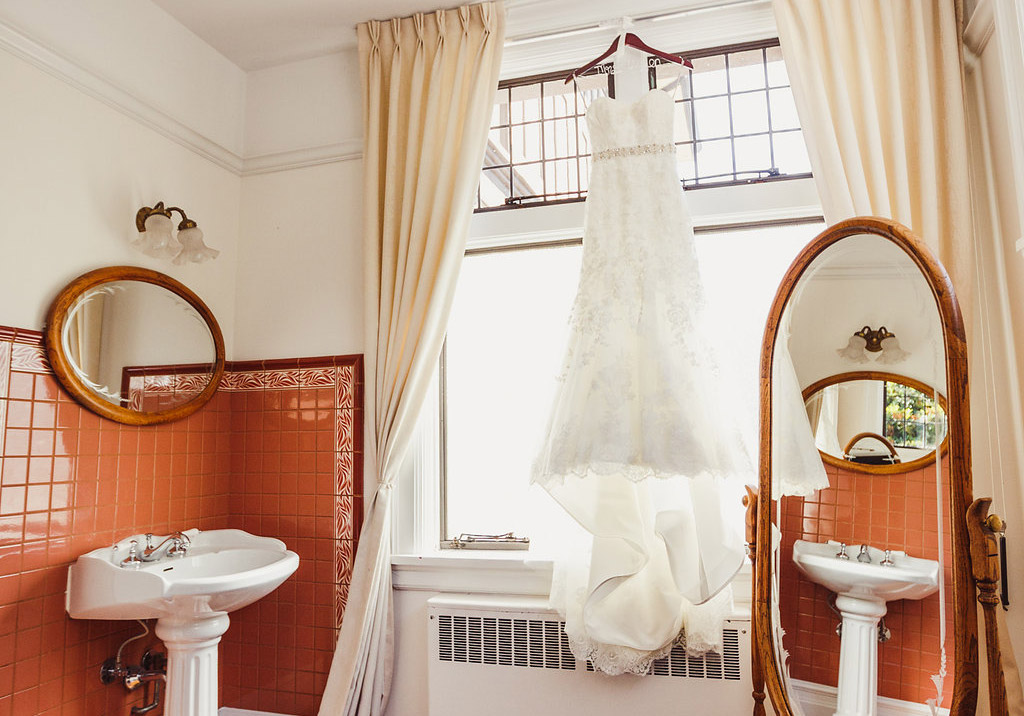 BRIDAL ROOM
Intimate and with a vintage feel, the Bridal Room is complete with a cheval mirror, small sink, and area to prep. Its ample natural lighting is perfect for your "getting ready" or "hanging wedding dress" photos. For business functions, this room offers an excellent space for private discussions away from the rest of the house.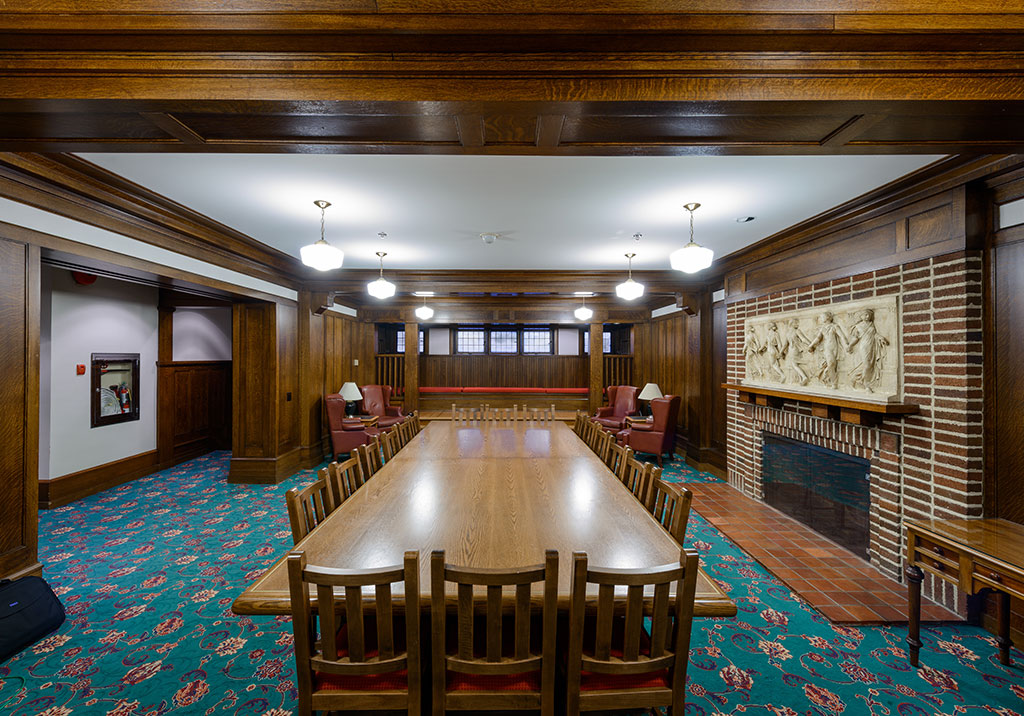 BOARDROOM
Formerly the billiard room of the house, the Boardroom is independent of the main floor reception rooms. This room is ideal for mid-sized meetings or as a break-out space, and can be rented on an hourly basis. It is set up conference-table style and can comfortably accommodate up to 20.
The Boardroom has a separate entrance, private washroom, projector, and ceiling-mounted screen.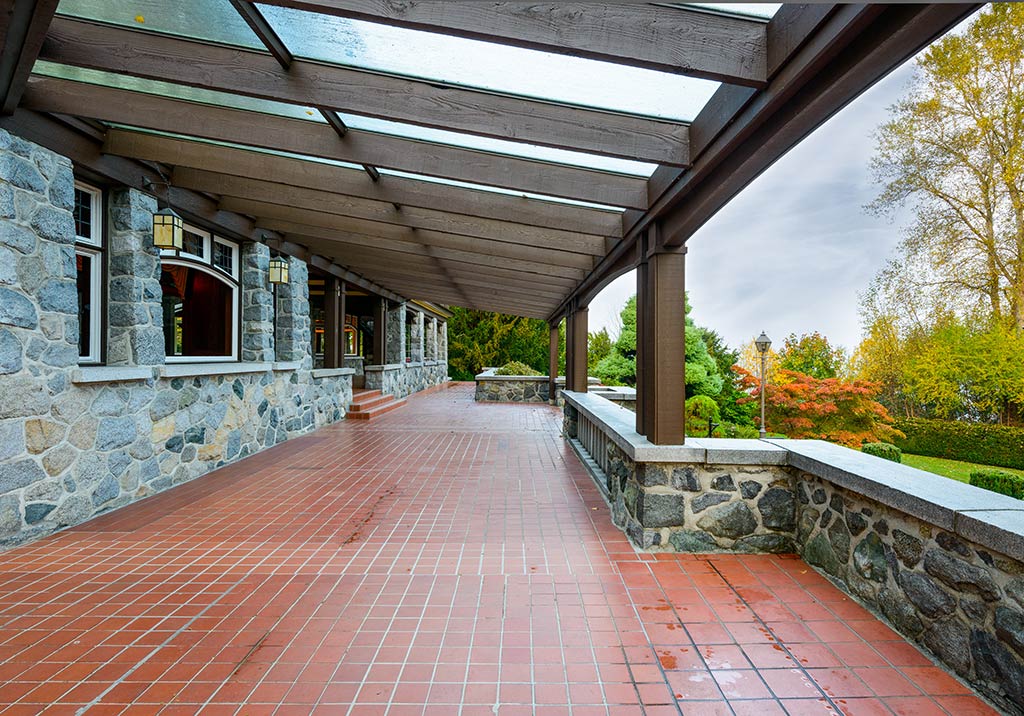 TERRACE
Dimensions
16' x 63'
Ceiling height by house
10.5'
Ceiling height close to garden
8.5'
With a view overlooking our expansive private gardens, the glass-covered terrace offers space to relax and enjoy the ocean-view sunset. Built with large stone masonry and spanning two levels, the terrace covers the full length of the house's north side. During warm summer evenings, it can be used for cocktail or dinner receptions with space for 110 seated guests.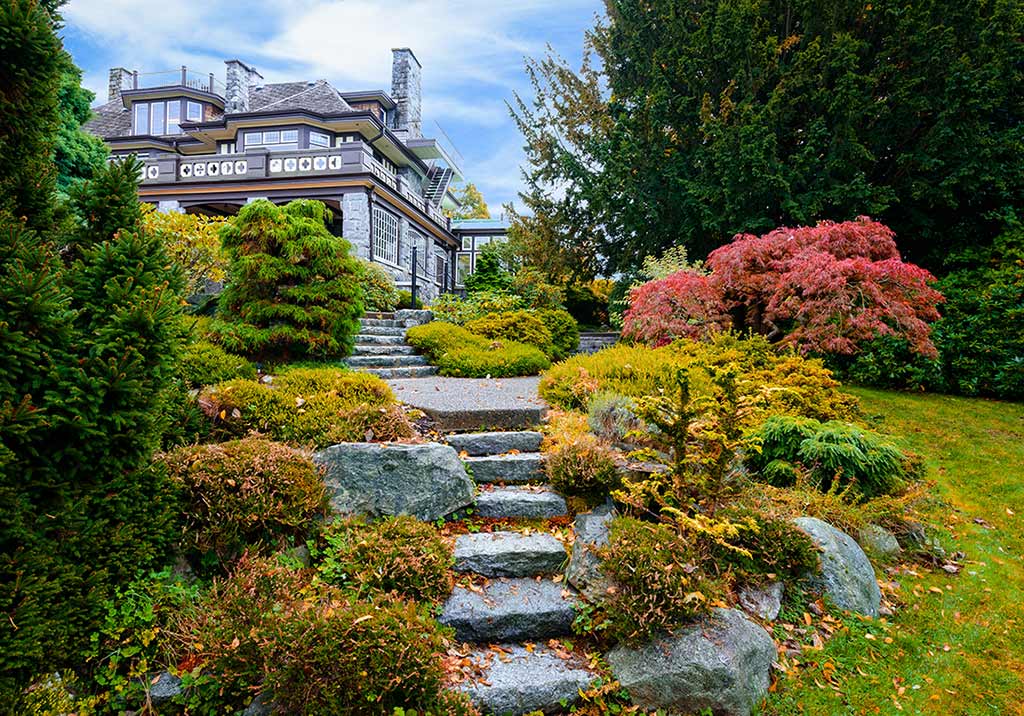 GARDENS
Walk down the cobblestone staircase descending into our private gardens, expertly manicured and maintained by professional UBC landscapers. The gardens offer exceptional rhododendron bushes, a lotus-flower-filled koi pond, magnolia and cherry blossom trees, Japanese Maple trees, and much more. Stunningly picturesque, our grounds are ready to welcome your wedding ceremony, afternoon barbeque, celebration, or photo shoot.